My week at Delphi CE Bootcamp
The Delphi Community Edition Bootcamp on EmbarcaderoAcademy.com started on September 3rd and will last 8 weeks. It is a great initiative with many outstanding authors giving free lessons over the Delphi product to celebrate the new Community Edition.
The first week, focused on the language, was given by the best possible author: Marco Cantù, Embarcadero PM (since years) and Delphi Guru (since decades, BTW happy birthday! 🙂 ).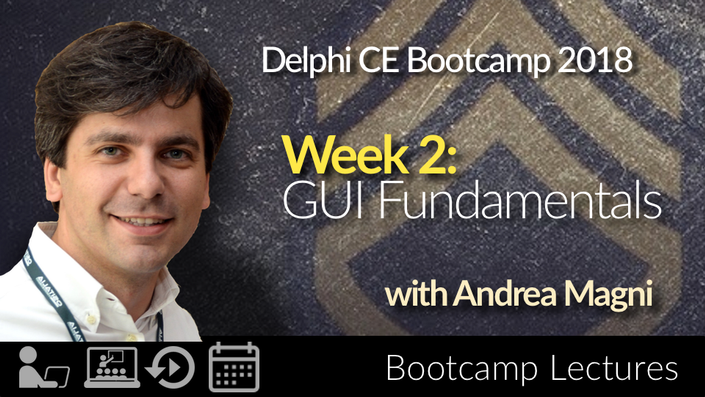 I am very happy to be the author for week 2, focused on GUI Fundamentals. I have tried to address this quite large topic focusing on some key aspects and trying to deliver a course suitable for newcomers (using the Community Edition or other editions) but hopefully interesting also for more experienced developers.
The course is based on video lectures (for something like 3 hours in total and with some quizzes to check yourself after each lecture) providing a brief but meaningful coverage of the following topics:
An introduction to the IDE and visual programming
How to position and align visual controls
An overview of most common controls
Animations and Effects
Lists and Grids (including Live Bindings topic)
The FireUI technology (cross-platform and cross-device development)
Some topics are evidently FMX but many others (IDE, general concepts about visual programming, positioning and alignments, Live Bindings) are actually viable for both VCL and FMX.
Putting together this course has not been effortless but, as a Delphi fan, I really enjoy having a chance to return something (hopefully) positive and useful to the Delphi community. The whole Delphi CE Bootcamp initiative is free and you will be able to attend all the courseware on demand. In the live Q&A session Marco had last Thursday, it has been said that more of three thousand developers registered! Registrations are still open so enroll now if you haven't already done it!
It is a great time to be a Delphi developer!
Andrea