Book "Delphi GUI Programming with FireMonkey", now available!
The day has come: my book is now available on PacktPub (link) and Amazon (link US, link IT) websites. It has been pre-order only till today, since a couple of … years! 😉
It has been a long journey since I signed the contract with the editor to write this book. It was late 2017, three years ago!
Obviously, it didn't actually took me three years to write the book. I've had ups and downs with this project and my productivity ranged widely, consequently. I probably underestimated the effort (this is my first book writing experience) and I've chosen not to apply myself exclusively to this single project. I continued my (many) other activities and I kept to deal with my regular customers. This probably also "helped" to dilute the project so much.
Writing a technical book is a difficult task, much more than I expected. I've always wanted to write a "classical" book, with some flux and with topics introduced following a well grounded stream of context. This is way different than, for example, writing single articles or blog posts, as I was used to. In addition, even though I am an experienced developer's trainer, the range of understanding assumptions and immediate feedback you can get from a live classroom is a huge benefit and greatly simplifies the process, I would say, with respect to transpose the same knowledge in a written text, without the chance to interact with the reader.
Nonetheless, I very happy this project completed successfully, meaning the book has been actually published. I hope this book will help the spreading of my favorite programming language: Delphi! I am aware a technical book can't be perfect and complete but I really think it provides a good path for programmers who are going to approach (and/or willing to master) FMX in cross-platform development, these days.
I am also glad to have such a beautiful and meaningful cover for my book: a picture of the ancient Theatre of Delphi! As you all should know, Delphi is named after the ancient greek city (specifically its oracle!).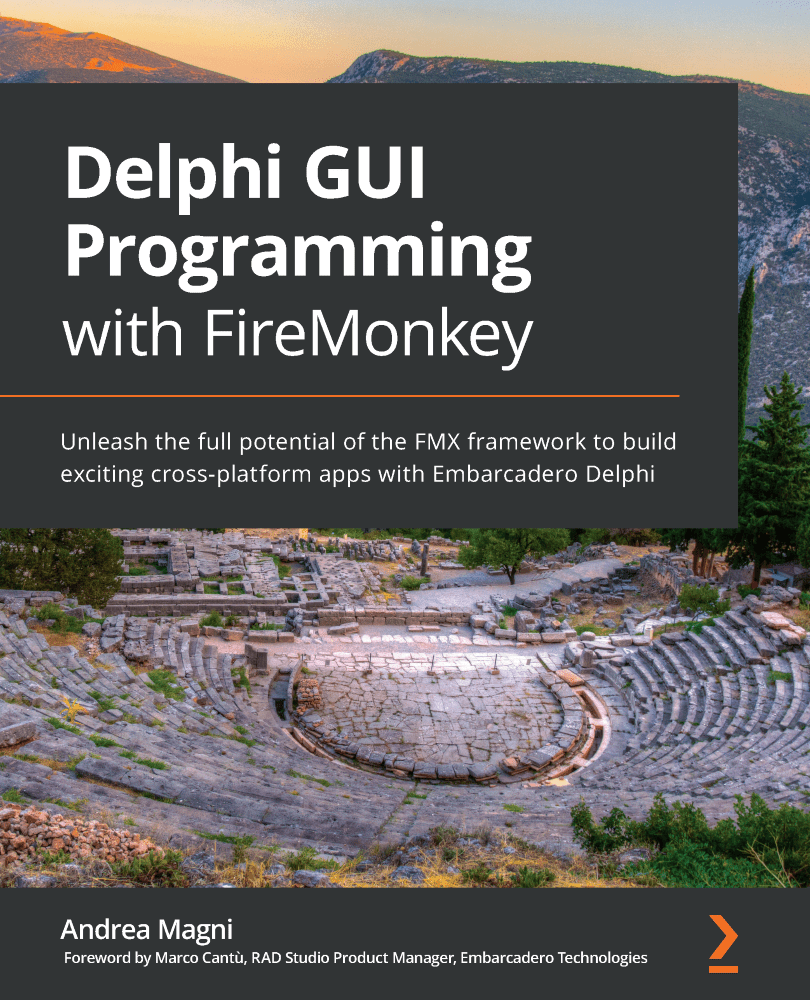 Personally and professionally, I am excited the book has a foreword by Marco Cantù (Delphi Product Manager at Embarcadero Technologies). Needlessly to say, Marco has been "The Delphi guru" since ever and it is very meaningful to me to have a foreword by him.
An interview with the author is available here: https://authors.packtpub.com/interview-with-andrea-magni/
The book is structured in three sections and 13 chapters:
Delphi GUI Programming Frameworks [2 chapters]
The FMX Framework in Depth [8 chapters]
Pushing to The Top: Advanced Topics [3 chapters]
Page count is over 500 and the book comes with 80 demo projects (used to replicate examples and concepts written in the book).
The book comes with a long dedication but it is especially dedicated to:
My wife, Marta, for the love, support, and inspiration through all these years; and my lovely daughter, Federica: I hope that you always keep your happiness and curiosity.
The book is available both in printed and electronic versions.
It has also been listed on Delphi Books website (link, many thanks, Patrick Prémartin).
The TOC is available on delphi-books.com and also on Packt website (link).
Upcoming: conferences!
November will be a very interesting month for me as I am speaking at two big online events: EKON24 and DelphiCon.
I will be speaking at EKON24 conference (link, November 2nd-4th), for the first time in its history, a full-online event due to COVID-19 restrictions, of course. My three sessions are the following (all scheduled next Tuesday, November 3rd):
Building an IoT remote for your applications (10:30 AM)
MARS-Curiosity REST library: new features and improvements (1:45 PM)
FMXER: a Flutter inspired visual framework for FMX (3:00 PM)
Embarcadero is launching a new world-wide online event: DelphiCon (link).
I am proud and honored to join such an event, together with so many top-level speaker all around the world. My session (link) will be about my book and it is scheduled November 19, 2020, 4:00 pm CET.
Thanks for all the attention, I can't wait to read your reviews about the book.
Sincerely,
Andrea